What is good to see and do in Seaton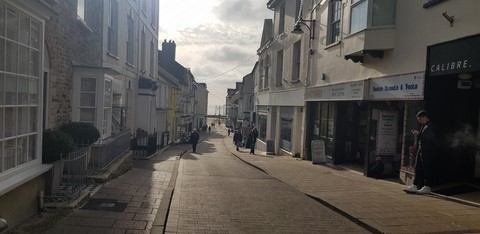 Seaton is seen by many from outside the area as the place of last resort (sorry) for a visit. So why should you call in here.
Let's have a look at some of the good stuff the town has to offer:-
Parking
Because Seaton is not that popular with visitors you can almost always find somewhere to park. There is even a summer "Overflow" car park, though to be fair it is seldom open! You can even park on the seafront promenade off-season (Nov-Mar) for free, and often people do, frequently in campervans, and frequently, it seems, all night, which is not really allowed but...
For sure parking is charged more or less the same as other and some might say more attractive locations elsewhere in the area but usually you can get a space. Go to Sidmouth peak-season and you could be driving around for hours!
Pubs
The town centre has three pubs in the high street area. Eyres Court and The Malt House and both are, in their own way, very good, the Royal Clarence is more for the younger local set, I will let you be the judge on that one. Nearer the seafront is The Vault which seems to open when it feels like it and more than often is closed (correct 2022) and right on the sea front is the Hook and Parrott which closed down a few years ago and is awaiting the wrecking ball. I suspect it will not be missed.
Along towards Tesco is The Old Picture House which is very nice but seems to close at odd times (such as most of January each year). Refurbished recently is occupies a strange position and has a very nice balcony overlooking, well, a roundabout. Still there is something to see out front, as inside with a lack of windows it does seem rather dark.

A little out of town towards Colyford is The Kings Arms which, again, has opening hours that can be a bit hit and miss. This pub is quite small inside is really what a village pub was 50 years ago, little has changed, but the food (when available) gets good reviews and the large, if a little spartan, gardens have views to die for.
Good things to see and do in Seaton Devon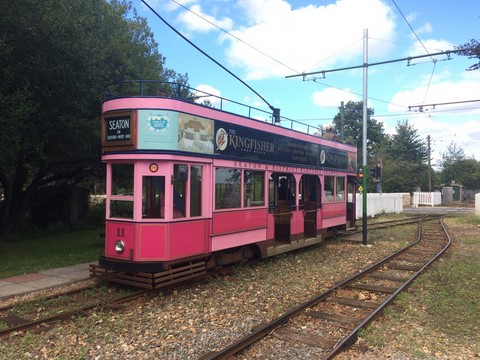 Tramway:

The tramway alone would give you (and a family) a great, full, day out. Get yourself a wristband for an "all day" ticket and head out to Colyford where there is a station to get off and explore the village. I say village, it is just one street really and a quite busy one at that so take care. Here you will find two pubs, where The Wheelwright even has a thatched bar inside, a café in a listed old petrol station and a church you can look around usually (technically a Chapel-of-Ease). The jewel in Colyford's crown is probably the little village shop where you can buy all manner of things.
Returning to the tramway and take it further away from Seaton to Colyton and here, after a five minute walk from the station you come to the town itself which is something of an overlooked jewel. A walk around the side streets on a nice day is a joy. There is one pub in the centre, The Kingfisher, with a very nice garden and over near the church is The Gerrard Arms which, again, has a garden albeit somewhat smaller than the Kingfisher.
The church with it's octagonal bell-tower is a rare English gem.

The centre of the town (really it is little more than a village) has several shops and a visitor centre. You can while away a couple of hours exploring the back streets of Colyton. Sadly the road through the centre is a bit of a rat-run for traffic and very narrow leading to many "Mexican stand-offs" but maybe, as you are not driving, this serves to only add entertainment.
Promenade and beach

The beach at Seaton is all stones and quite big ones at that. The view looking out to sea is wonderful and occasionally there are people swimming or using paddle-boards but sadly little else apart from cliffs and water to look at. Along the promenade at the western end of the town tucked almost out of sight in the wonderfully named "Hideaway" café. Get a drink and a cake and site outside and you could think you were in paradise. Sadly you are not, this is Seaton but it does have a certain charm where the building itself contributes to this aspect.
Heading back the other way, taking extreme care to avoid mobility scooters and dog-dirt all the way, to the east is a nice long level walk takes you past the usual ice-cream parlours, some toilets and then, past the roundabout you pass The Vault pub and beyond the true horror of the main seafront at Seaton. Press on and stick with it and once you reach the green flats (a former hotel) things begin to improve.
Keep going and there are a mix of interesting properties looking out to sea with a new block of flats sticking out like a bit of a sore thumb. Let us say opinions on them are divided...
At the far end you come to the harbour and there is a most interesting large white building which is a mix of flats and houses and... well see if you can work it out.
From here head along the front of these buildings to the main road and turn right. Keeping right you will walk across what is reputed to be the oldest concrete bridge in England still in use (but no longer for cars) and at the end you can turn right and walk down the side of the river mouth itself. Here you will find a small café. The area is best viewed from the other side of the river (quite a walk!) but the few buildings here do make for an attractive scene.
You can return to the town centre if you wish along the main Harbour Road which is busy and blessed with some terrible buildings, Premier Inn (really!) and Tesco.
Town Centre:
The is a small town centre which is accessed from near the western end of Harbour Road, so the end away from Tesco and the Premier Inn. Pass The Old Picture House pub and The Royal Clarence and then turn to your right.

The High Street is pedestrianised and mainly in block paving. You will find no chain stores here, even Boots got up and went recently so every shop is an independent. Local street signs in some places call it the "cultural quarter" which it most certainly is not but there are some places worth seeing. There are several places you can each or grab a coffee and some charity shops. So far like any high street then? But wait. There is a rather nice gift shop, an excellent butchers and opposite the butchers the most remarkable ironmongers in the area. You half expect Ronnie Corbett to come out and serve Ronnie Barker with "Four Candles".
Head a little further up the hill to the junction and turn around, and look down the high street. The view down this unremarkable street with the sea almost touching the far end is, in its own way, just a little bit quintessentially British. There are also more interesting shops to your left and right here as well as a small public gardens to sit in (where there was once a cinema, long since gone). Near here you will also find a Chinese Takeaway.

Of course you can also get a hair cut, deposit a cheque (remarkably there is still a bank...but for how long?) and buy a beer but at the bottom of the hill near Harbour Road is a remarkable games shop called Item Drop who sell all over the U.K.
Head up to the left at the fork and out of the pedestrian area and along the road there to the left is a second-hand book shop where there is so much stock it is all you can do to get through the door sometimes.
If you amble you can while away an hour in the town centre, if you explore the shops on the fringes and get yourself a tattoo maybe even longer.