Seaton - The People
The people of Seaton
Seaton is a strange place to live in. The area near the sea is all flats for either old people or, er, displaced people it seems. Move further inland and you reach bungalow world. For sure Seaton is a town for retirees. But if you talk to these people you will find none of them have any real connection to the local area. The few people left who were born and bred around these parts call such folk "Blow-Ins" and certain they out-number the locals.
How not to park in Seaton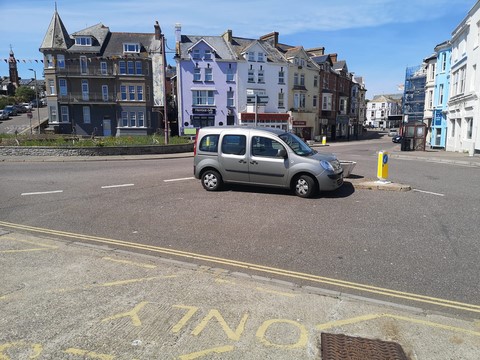 Being a fairly level run from "Bungalow World" mobility scooters abound but there are not great pavements in some areas so often you will find them crawling along the road, but actually not much slower than a number of the cars. It has to be said there are some terrible car drivers in Seaton. If you find yourself doing 10 mph when you think even 25 mph would be slow just say to yourself "It's Devon", sit back and take in the view.

Of course not everyone is an OAP although it might seem like it but you will not find, amongst the young, your city types or yuppies. There is no a lot of work in Seaton outside of the very short tourist season or working in caring for the elderly so money seems not to abound. Most of the money in Seaton has been made elsewhere.
The town's Tesco is a draw for those living locally in Charmouth, Lyme Regis and Beer and maybe even Sidmouth where there is only a Waitrose and a Lidl so the town does attract people from around the area but I would suggest they go to Tesco and get out again as quickly as possible. No one from Lyme Regis is going to venture in to the main town when Lyme is better, albeit busier. Tesco hold the lion's share of supermarket shelving around this part of East Devon with stores in Seaton, Axminster and Honiton.
Coming in early 2023 it is rumoured that the former Co-Op will become a Lidl and actually there is little else of any merit locally.